we got up bright and early, grabbed some coffee, and prepared for the day's excursion.
i would be lying if i didn't mention that i was pretty nervous at this point.
waterfalls are tall...i don't do well with heights...and i'm clumsy.
not the best combo.
but sometimes you have to face/get over your fears for the sake of a good adventure.
so i sucked it up and put on my brave girl face.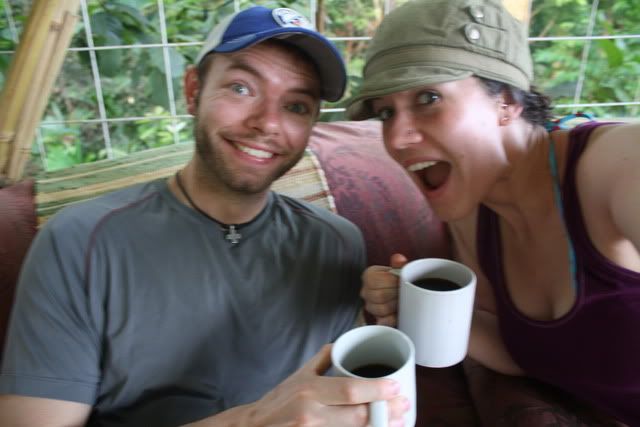 because no one else had signed up to repel that day, it was just us and our 2 tour guides.
who were incredibly awesome.
they picked us up at our hostel, drove us to their house, exchanged cars, and drove us into the rain forest...
in this little guy.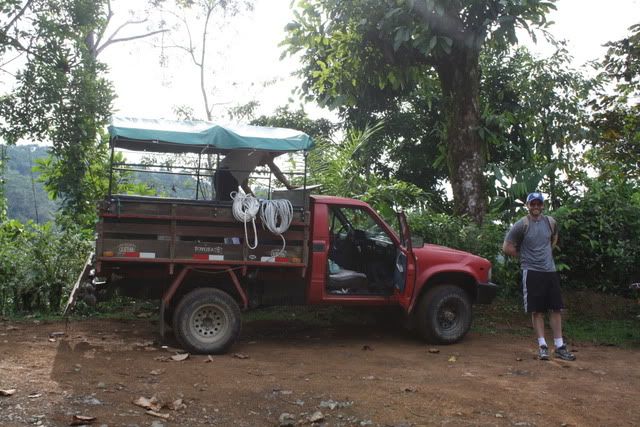 while getting the gear together, i admired this lovely butterfly who served as a good distraction for my nerves:)
and then it was time to go for it.
one of the guides kept saying "nick, you're so good. have you done this before?"
while giving me constant praise and encouragement even though i spent a lot of the time flailing my legs like a crazy person. i guess you gotta start somewhere, right?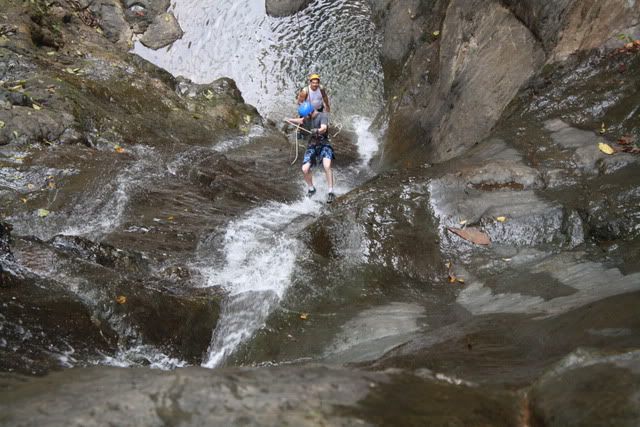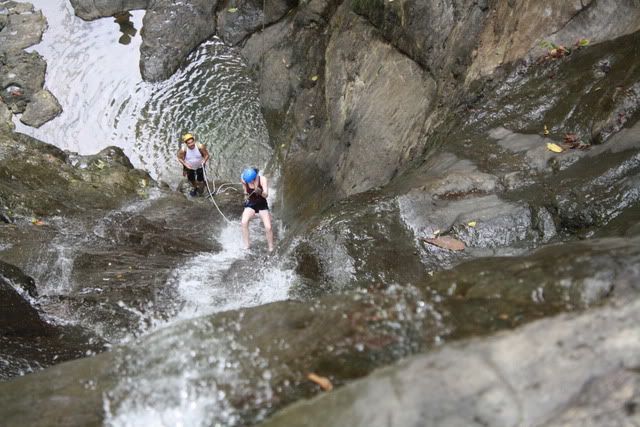 after repelling down a couple of beautiful waterfalls and taking one amazing hike where we saw the COOLEST. THING. EVER.
a leaf that closes up when you touch it.
i was amazed.
there were other cool things, but that was my FAVORITE.
it was time for the bridge (yeah, the one made of ladders and chicken wire).
and yes, mr. lesley and i started crossing at the same time.
i was going at a snail's pace.
it was semi terrifying.
but once i just let go, i actually really enjoyed myself.
i mean, i look pretty happy here, right?
like i said before...
he's a pro.
after all the repelling amazingness,
it was time for lunch.
those tortillas were incredible.
(along with everything else).
before they dropped us off, we had to get one more picture.
this is the man who took us on the repels.
he is a comedian/botanist/outdoors man/anthropologist.
and we loved him.
(although his name is escaping me at the moment...give me some time and i'm sure it will come to me:)
we barely wasted any time that day making our way to the national park/beach...
and discovered our own little slice of heaven on earth.
our little travel gnome friend decided to finally make an appearance too.
as well as this guy.
who hissed at me and basically tried to bite my head off.
sheesh guy.
kill me for trying to take your picture.
all the while mr. lesley was practically losing his mind over all the hermit crabs.
he was in love with them.
every 2 seconds, "hannah. look at that one. oh my gosh. these guys are incredible!"
after getting our swim on, we went into the park to search for monkeys.
mostly to wrestle them.
hooray! we found some.
although they look pretty creepy to me.
i'm more of a flower fan myself.
after a jam packed day of adventures, we treated ourself with another dinner at mar luna.
we couldn't resist.
but we went with casadas this time.
:)
i think waterfall repelling is my new favorite hobby.
just sayin'.