this day started off a bit rough.
a.k.a. we got a flat tire.
fortunately mr. lesley changed the tire, we found a local car repair shop, i explained that we needed a new tire in my broken spanish, they fixed the one we had, and only charged us 6 bucks.
we were back on the road in about 30 minutes.
not too shabby and only minorly inconvenient.
well...that wasn't the end of the roughness.
after driving for about an hour (we were headed to our third and final destination, arenal),
we came upon some extremely rocky and windy roads.
the car was silent.
i was praying furiously.
the last thing we needed was to get a flat tire again, but in the middle of nowhere this time.
but God heard our prayers, kept us safe, and gave us some pretty amazing scenery to help take our minds off the stress.
this was my hands spot the whole drive.
and yes, i was squeezing the handle as hard as i could.
my other hand was over my heart.
our main motivation in visiting this city was to see it's famous active volcano.
once we spotted it in the distance, things started looking up for us and our little toyota.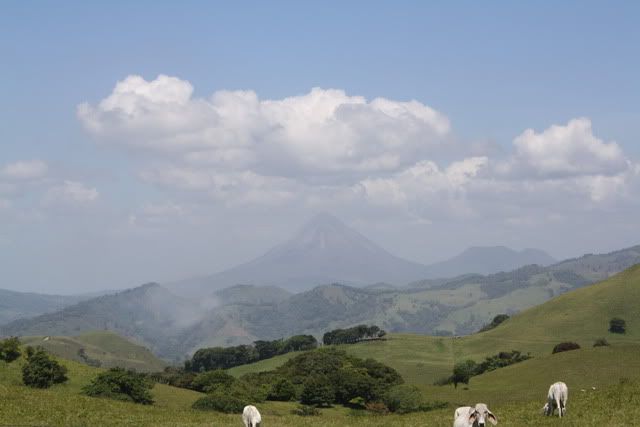 after almost 7 hours of driving (yikes),
WE MADE IT.
boy, were we relived.
i thought i was going to have to befriend a costa rican family and somehow convince them to fix the car and let us stay with them:)
once our teeth stopped chattering and our pulses returned to normal, we took full advantage of the buffet and hot springs just a couple of minutes from our hostel.
where we cheers-ed to making it safe and sound.
and then took full advantage of all the little pools and waterfalls at the hot springs.
it was perfect timing after our long day.
and they even had this lady out front.
and we couldn't help ourselves.
even with all the ridiculousness, it still turned out to be another fab. day in the CR.
pura vida!