when i was in south africa, i met angela.
you can read more about her story
here
.
this past week, she passed away.
i wanted to write something for her, but after i got this email, i knew nothing i could write could compare.
this is from a missionary in SA who knew her...
Isn't she beautiful? This is a picture of Angela. We met her two years ago. She had HIV and had been struggling with TB. The Norman Community short term
team
found Angela. She was so sick and unable to get up in bed. She wasn't even able to talk or raise her head. Everyday they prayed for her, and even worshiped outside her shack for hours. She began talking again, sitting up, standing up, and when she was tested, she was told she did not have TB anymore. So for two years she worked hard to walk again. She had such determination. She completely gave her life over to Jesus. We visited her, prayed with her, studied the Word with her.
This picture is the day she decided to get baptized. Her mom was still steeped in ancestral worship and Angela said, I don't care what my family says, I am giving my life to Jesus. There were days that she was discouraged. We loved her, we loved her mom Edith and the darling Lolitha, Angela's daughter. Her mom listened to all our sharing from the Word. Edith and Angela joined one of our house churches and came weekly for fellowship and study. Then one day Edith decided to give her life to Jesus and be baptized. We were all so happy.
Angela's immune system was weak and did not have much fight so this past rainy season she developed a new strain of TB. A completely different strain than she had before. We prayed, shared, cried and listened to her. A local church in Muizenburg sent Angela to a healing conference in JoBerg. Each day they had worship, prayer and teaching. They stayed at this event for 2 months. She felt so much better and loved being surrounded by the worship. It greatly effected Mama Edith. She told me she had never experienced anything like that ever.
When Angela came home her cough got worse. She went to the hospital on Sunday and died peacefully late Monday night. She blessed her mother, she told her mother that she excelled at standing by her and caring for her. She said thank you to everyone who cared for her in every way.
Lolitha the young 2 year old was being cared for at home while Angela and Edith were in the Hospital. Lolitha turned to the care taker and pointed at the door, " Do you see Angela?" The care taker said, " Angela is not here." Lolitha said," Yes, she is she is standing outside the door. I will not see her anymore, only when I go to church."
When Grandma Edith came home from the hospital, Lolitha grabbed her face and said, "I will not see Angela anymore, you are now my mommy and I love you."
How amazing that God even prepares a little two year old child to release her mommy.
Edith kept saying yesterday, "I will not worship the ancestors at this death, I am a born again Christian and will not participate in that." Salvation has truly come to this house. God brought us the family of God to this family. Their own family rejected them because of Angela's illness. God sent so many of His own to fellowship and laugh, talk , pray, believe, encourage and the whole household was saved.
I will be forever changed by Angela. Her fierce determination to live well, full of God and Hope and overcoming weakness. We love you Angela, you have changed us all.
We will dance together in Heaven, Angela, I promise.
Kalyn, or commonly known as Mamacita
here is a picture i took of angela's mom, edith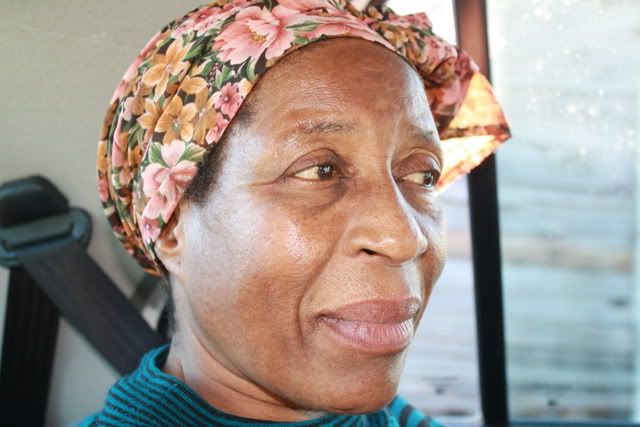 and angela's daughter lolitha
while i was in SA this summer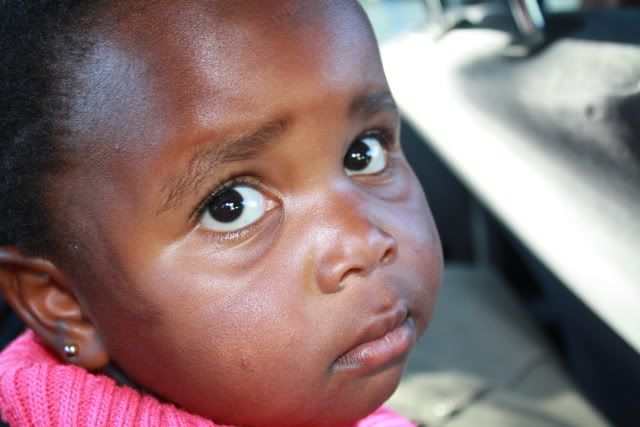 thinking of the story of this family really puts life in
perspective
, huh?
please pray for mama edith and lolitha
xoxo.