let me give you a little time line...
1. nick and i decide to go to portland/seattle for fall break!
2. we look for plane tickets but opt for driving instead (road trip!!!!)
3. we need to take off on saturday but i just have to go to the weepies concert in denver on sunday night=dilemma.
4. we discover the weepies are playing in salt lake city saturday night=hooray! we decide to make slc our first stopping point.
5. i find out the weepies show in slc is sold out=devastation.
6. nick promises it will all work out ("hannah, have a little faith.")
7. he sees tickets posted on craigslist and emails the guy asap.
8. we get the tickets.
9. i die of excitement.
10. we take off for our road trip adventure.
saturday morning...8:30 a.m.
after toasting our
starbucks
beverages we took off for the open road.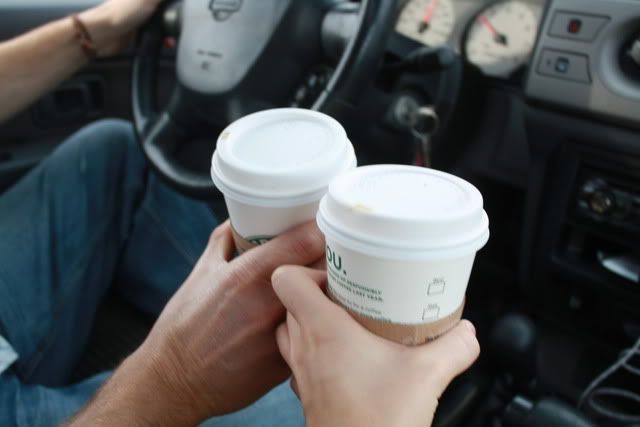 when i wasn't driving...
i slept (surprise, surprise).
when nick wasn't driving...
he watched dexter on his laptop.
(surprise, surprise)
we finally made it to salt lake city...
dropped our things off at our gracious hostess
becky's
house, went out for a little dinner, and made it to the venue.
i could barely contain my excitement.
the videos i took at the show wouldn't load here (blast!), but i'll give you an overview of the show in 4 words...
i. couldn't. stop. smiling.
for a band named the weepies, they were the happiest band i've ever seen.
they sounded incredible.
were completely hilarious.
and even though i didn't think it was possible, they made me fall even more in love with their music that night.
it was an absolutely perfect start to the trip.
xoxo