confession: before yesterday snowshoeing= tennis rackets on your feet (made of wood, of course), traipsing through the woods, stopping to make snow angels and admire the falling snow, all the while looking strikingly similar to an eskimo.
boy was i wrong.
mr. lesley and i went on a church outing to rocky mountain national park for some snowshoeing action.
unfortunately for us, mr. lesley was too sick to join in the fun and spent the day reading and napping in estes park.
but he was nice enough to act as my chauffeur for the day.
what a peach.
anywho...the intense showshoeing adventure started like this...
casual walking. no bigs.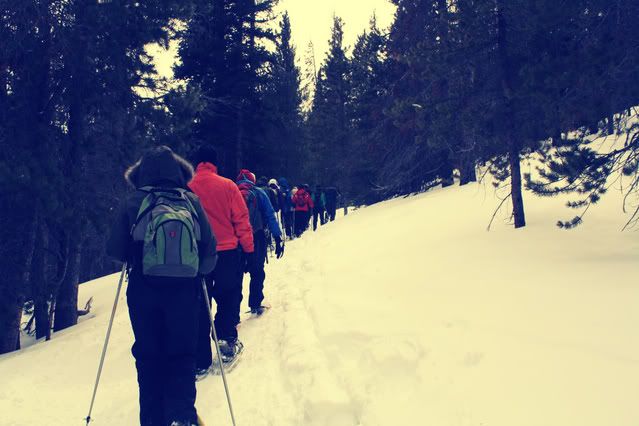 some baby hills.
though at the time i thought they were hard and was falling all over myself.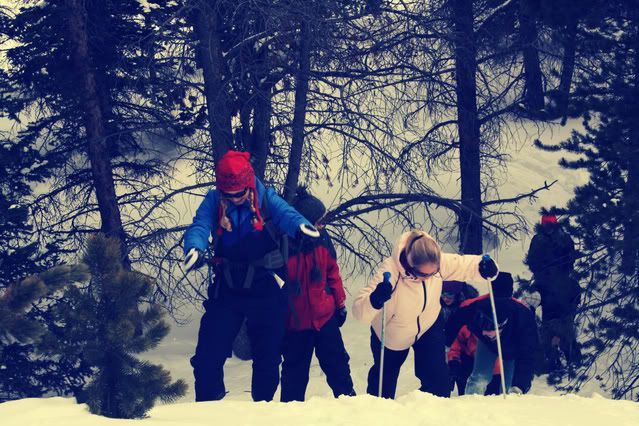 then a little slide down action.
which of course i couldn't even do that right.
i think i got about 10 lbs. of snow in my jacket on this first chute.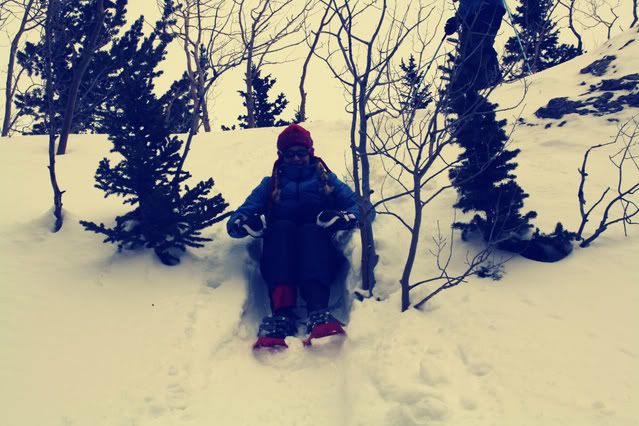 and a little while later we arrived at this little lake here.
and took in the fantastic views.
then the two roads diverged...
easy path or channel your inner mountain goat?
the group chose to channel their inner mountain goat...
and even though the easy path was screaming my name...i succumbed to the peer pressure and off we went.
(it may not look steep in this picture, but believe you me it was an 79.5 degree angle...at least!)
but after a lot of screaming and near death experiences and hearing "hannah, you're doing great" and telling people "i am not in my happy place" ... i finally made it to the top!
even with my big bird snowshoes!
after we made it to the top, the fun revealed itself.
we slid down the mountain, dodging trees and screaming (fun screaming, not "i'm going to die screaming") all the way.
when i got to the bottom of our first slide experience, i found out that a couple in the group was getting ENGAGED!
even though i had only met them at church a couple weeks before, i got so excited and busted out my camera immediately:)
everyone gathered around and waited for them to slide their engaged selves down the mountain.
we toasted their new life together...
and i took pictures:)
so adorable.
after a bunch more sliding sessions...
we made our way to the bottom.
just in time for a group picture compliments of a man with WOODEN snowshoes (just like i imagined).
all in all...it was a fabulous day.
church people, i like you.
snowshoeing, i like you.
moments of sheer panic and near death experiences, i think you may be growing on me.