if you're ever in boulder, colorado you should really make a stop at celestial seasoning (home of the teas we have all come to know and love).
here's a few reasons it will be more than worth your time...
#1 free hair nets.
#2 free beard nets (although i didn't even know such a thing existed until they made nick wear one...see example below:)
#3 free tea tasting...there are 80 different flavors to choose from!
#4 the mint room...it will burn off all your nose hairs and clear up your sinuses in a matter of seconds.
#5 sugar cookie sleigh ride tea (available all year)...enough said.
#6 unicorns, wizards, tigers with a cup of tea in their paws, fairies, and dancing gingerbread men line the walls for your viewing pleasure.
#7 a lot of fast facts on the tour: for example, did you know that archaeological evidence suggest green tea has been consumed for more than 5,000 years? yep. it's true.
i would keep going, but i don't want to give too much away.
just think...this could be you in no time.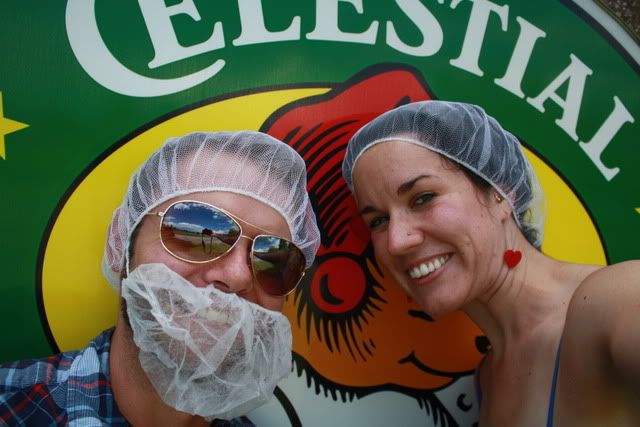 and if you can't make it to boulder...
take a virtual tour!
(since I know you have absolutely nothing better to do with your time...)
xoxo